Watten House New Launch at Shelford Road Bukit Timah : Freehold Luxury Living within 1 km to Top Pri Schools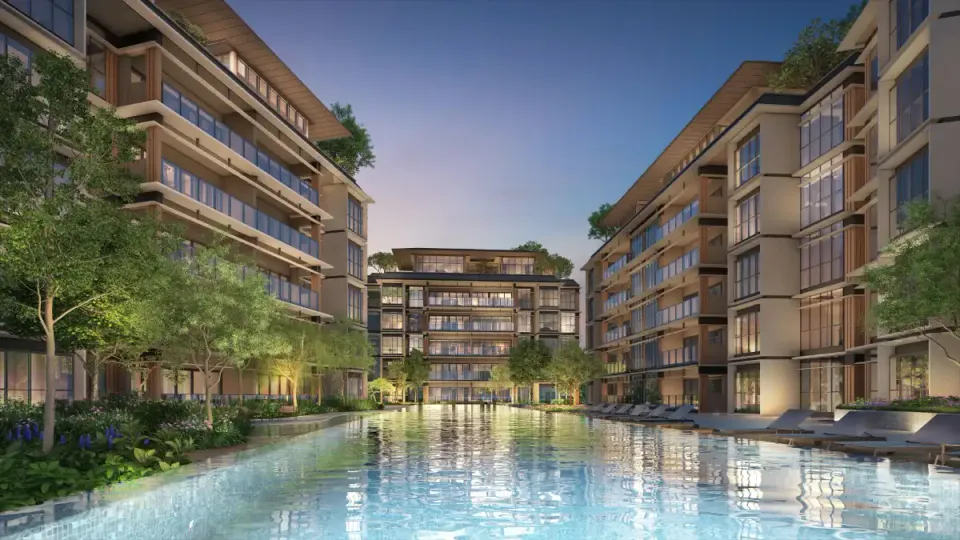 Watten House is a freehold new launch coming up at Shelford Road, District 11, Bukit Timah. The Chinese name is 华登嘉苑.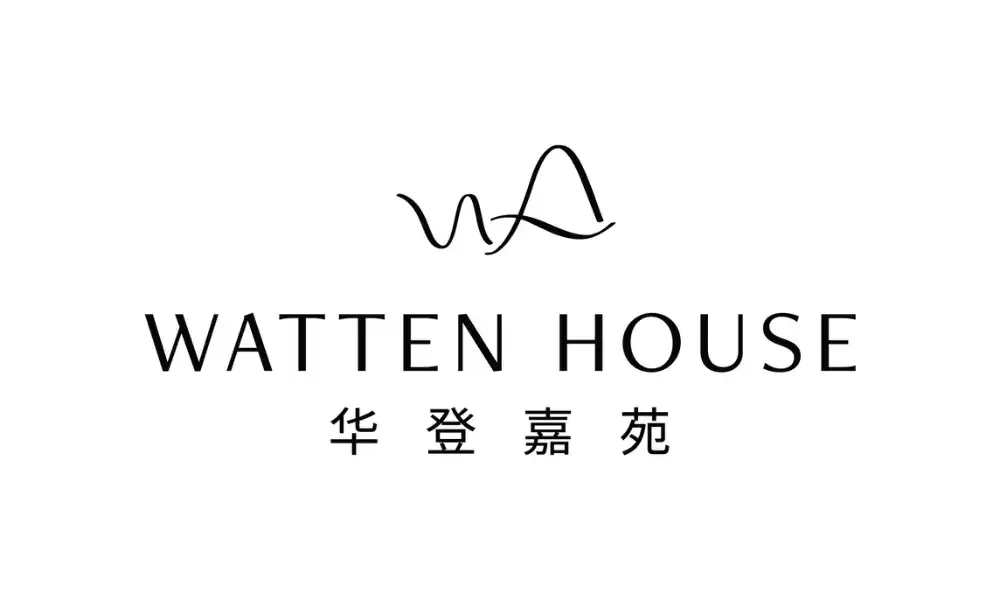 Pitched as "Tranquility on the Hill", Watten House is perched on elevated ground (the highest point in Watten Estate) of prime Bukit Timah low-rise residential enclave with lush greenery all around the condo.
This is a freehold development by United Venture Development (Watten) Pte Ltd, which is a joint venture between UOL Group and Singapore Land. Watten House is the result of the successful enbloc of what is formerly known as Watten Estate Condo.
Check out the new launch web site:
Located at the prestigious District 11, it is close to Adam Road and Dunearn Road, and most importantly is just 7 mins walk from Tan Kah Kee MRT station (on the Downtown line). The nearby Botanic Gardens MRT station is also a MRT interchange station for both the Downtown line and Circle line and is also pretty close by at the junction of Dunearn Road and Adam Road. So basically you have two MRT stations pretty close to the Watten House. Good for school going kids.
Expected to be launched by private preview in late October and early November, there are not many such large format freehold development in Bukit Timah Road. The site area itself is a huge 20,461.10sqm or 220,243 sqft.
Check out the Watten House location map to better understand the appeal of Watten House.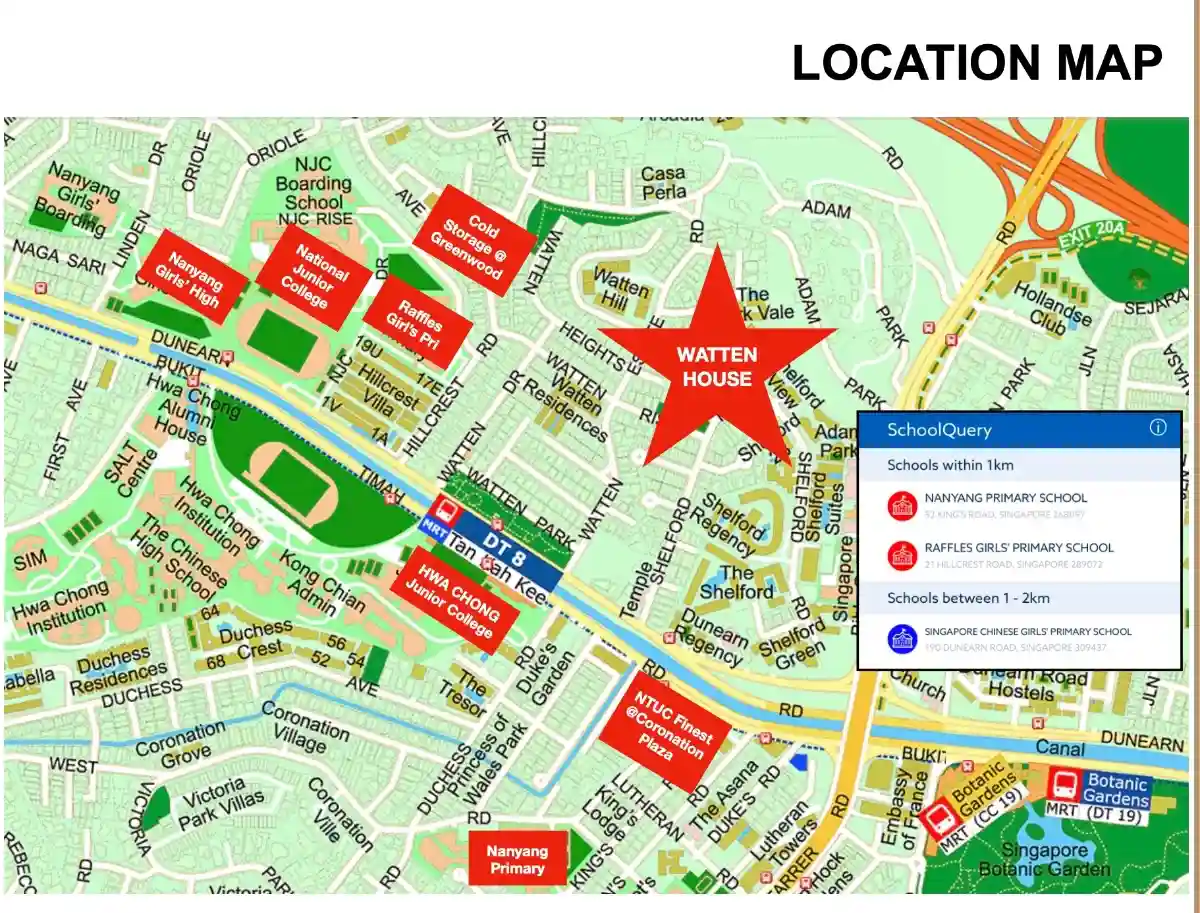 Low density and large format units development
According to information, this development is a large format and low density residential development developed by UOL group and Singapore Land Group.
There will be 8 Blocks of 5 Storey Residential Flats, with just a total of 180 residential units only, right next to a neighbourhood park.
The unit mix are as follow:
3 Bedrooms has 40 units of 990-1160 sqft
3 Bedrooms with Study has 60 units of 1,500 sqft
4 Bedrooms has 36 units of 1,800 sqft
5 Bedrooms has 36 units of 3,600 sqft
Penthouse has 8 units of 3,400 to 4,000 sqft

What do you notice immediately ? There are no 1 bedrooms or 2 bedrooms which are typically sold very quickly in a new condo launch.
For Watten House, there are only 3 bedrooms, 4 bedrooms and 5 bedrooms. The spacious 3 to 5 bedrooms and duplex penthouse units are all artfully crafted for multigenerational living.
The typical ceiling height is a very high 3.25m and there will be ducted aircon in living and dining areas. For the 3 Bedroom + Study, the study area is right next to big luxurious Master Bedroom and, unlike a lot of new condos, it is a proper study room with window and aircon. It can be removed to make the walk-in wardrobe larger.
And that's not all. There are also 8 very impressive units of Duplex Penthouse, one on each block.
These 8 units of exclusive penthouses, designed to embody the concept of "bungalows in the sky", come complete with cutting edge appliances and designer fittings. There are going to be duplex penthouses of 7 bedrooms with a ceiling height at living/dining of about 3.5m to 4.2m and each comes with a private lift from the car park to your own residence.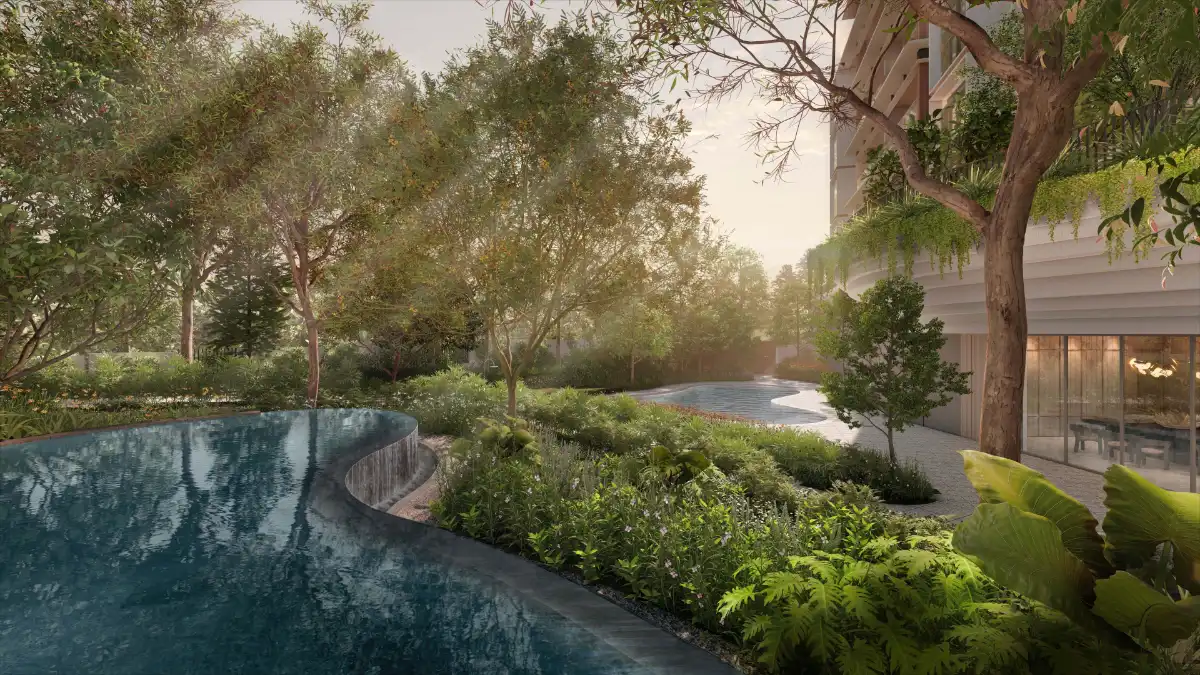 1 km from Nanyang Primary School and Raffles Girls Primary School
Watten House at Shelford Road by UOL group and Singland has been positioned as a luxury freehold development. But to me, one key selling point is that it is 1 km from the famous Nanyang Primary School and also Raffles Girls Primary School (emphasis is mine).
We know that if your chosen primary school has more registrants than vacancies, priority admission will be given based on your child's citizenship and the Home-School Distance category, which is in turn based on the residential address used for registration.
Priority admission is given in this order:
Singapore Citizens (SC) living within 1km of the school.
SCs living between 1km and 2km of the school.
SCs living outside 2km of the school.
Permanent Residents (PR) living within 1km of the school.
PRs living between 1km and 2km of the school.
PRs living outside 2km of the school.
So here you have it, just like my article on condo within 1 km of good schools, the fact is clear. For a good school like Nanyang Primary School, balloting is part and parcel of admission.

As an example, look at the above diagram. In 2023, at Phase 2A, there were 171 students applying for only 149 positions. Balloting took place (but luckily, it is still open to those who are Singapore Citizens outside of 2km). But that means if you are applying under Phase 2A and you are already 1 km from Nanyang Primary (like in Watten House), you got your child a space as there is no need for balloting at this phase :).
And at Phase 2B and Phase 2C, there are already balloting even for those within 1km of the school ! You might say that is a lottery at Phase 2B and Phase 2C, and yet if you are not a Singaporean and not within 1 km, then you don't even have a chance for the lottery. No chance at all :(
This is why being 1 km of these two top primary schools is one key attraction of Watten House that are so attractive to some school going families.
When you purchase a new launch unit (or even a resale unit) within 1 km of a top school, you need to be very aware of the Property Rules for P1 Home Distance Priority Admission though. There are rules to follow.
Long Time Stay for Families at Watten House
With that point, it is also important to note that for many people, after they bought a property (or even rented one) for the sake of 1 km rule, they quickly moved on to another location where necessary (e.g after 30 months or after 5-6 years of Primary School).
I doubt that is the case for Watten House new launch. I believe this new launch freehold condo will be a long term house for families with school-aged children.
Why ? Cause if you look pass just the Primary 1 priority admission, but also look at the names of the Primary Schools, the Secondary Schools and then the higher Education Institutions around at Bukit Timah Road or beyond, you can see that there are many well known schools at primary school level, secondary school level, IB schools, junior colleges at the area.
After big brother finished his primary school, small sister goes to the primary school too. After big brother finished his primary school, he goes to the nearby secondary school too.
These are the differenct schools close to Watten House. They are not necessarily just within 1 km but also close enough from Watten House. Either by the famous Downtown Line (serving all these top schools) or by the many public buses along Bukit Timah Road and Dunearn Road or of course, just a quick drive away in the morning.
Local Schools for Singaporeans and PRs
• Raffles Girls' Primary School
• Nanyang Primary School
• Singapore Chinese Girls School
• Anglo Chinese School (Primary and Junior)
• Nanyang Girls High School
• St. Margaret's Secondary School
• Anglo Chinese Secondary School (ACS)
• Hwa Chong Institution
• Hwa Chong International School
• National Junior College
International schools for Foreigners
St Francis Methodist School
DIMENSIONS International College
German European School
Hollandse School
Singapore Korean International School
Swiss School in Singapore
Chatsworth International School
The Mandarin Academy for International
Leeds International School
Hwa Chong International
Middleton International School
Looking at the list and if you know the area and demographics of Bukit Timah, most of the Nanyang Primary School and Raffles Girls Primary students tend to go to Hwa Chong Institution or the Nanyang Girls High School. They might also choose to study at National Junior College later. And, yes despite the move to Tengah, ACS(P) will be replaced by ACS Junior at the same Bukit Timah location.
Looking beyond this area, there are Ngee Ann Polytechnic at Upper Bukit Timah Road (though the Reserve Residences might also be a good choice, in that case).
Much further, at about 15-minute drive from Watten House, the ACS (Independent) school and the ACJC etc are at Dover Road educational belt. And, also there is the Singapore University of Social Sciences at Clementi.
End of the day, if education is what drive Singaporeans to buy properties, then the abundance of higher educational institutions will also keep them at this Bukit Timah area too. Parents who choose to live at Bukit Timah for convenience due to their kids' education will also tend to stay for an average of 10 years or even more at this area. Or even beyond....
The Beauty of Bukit Timah Area
As this area is not to be scoffed at either.
It is a prestigious area and yet has a laid back feeling (except for that busy Bukit Timah Road), which counts for a lot. The Shelford Estate and Watten Estate area itself are little sweet homely areas which gives your stay at Watten House a warm family feeling too. Neighbourhood parks are all around the Watten Estate.
Food can be very atas or very local. There are Adam Road Food Centre or Bukit Timah Food Centre. There are shopping at NTUC Finest at Coronation Shopping Plaza, or Holland Village at Holland Road. Or Cold Storage nearby too. And... McDonalds, Starbucks, KFC, Domino's Pizza and of course, our local beloved Killney Coffee. And even Tiong Bahru bakery is moving to Cluny Court nearby now.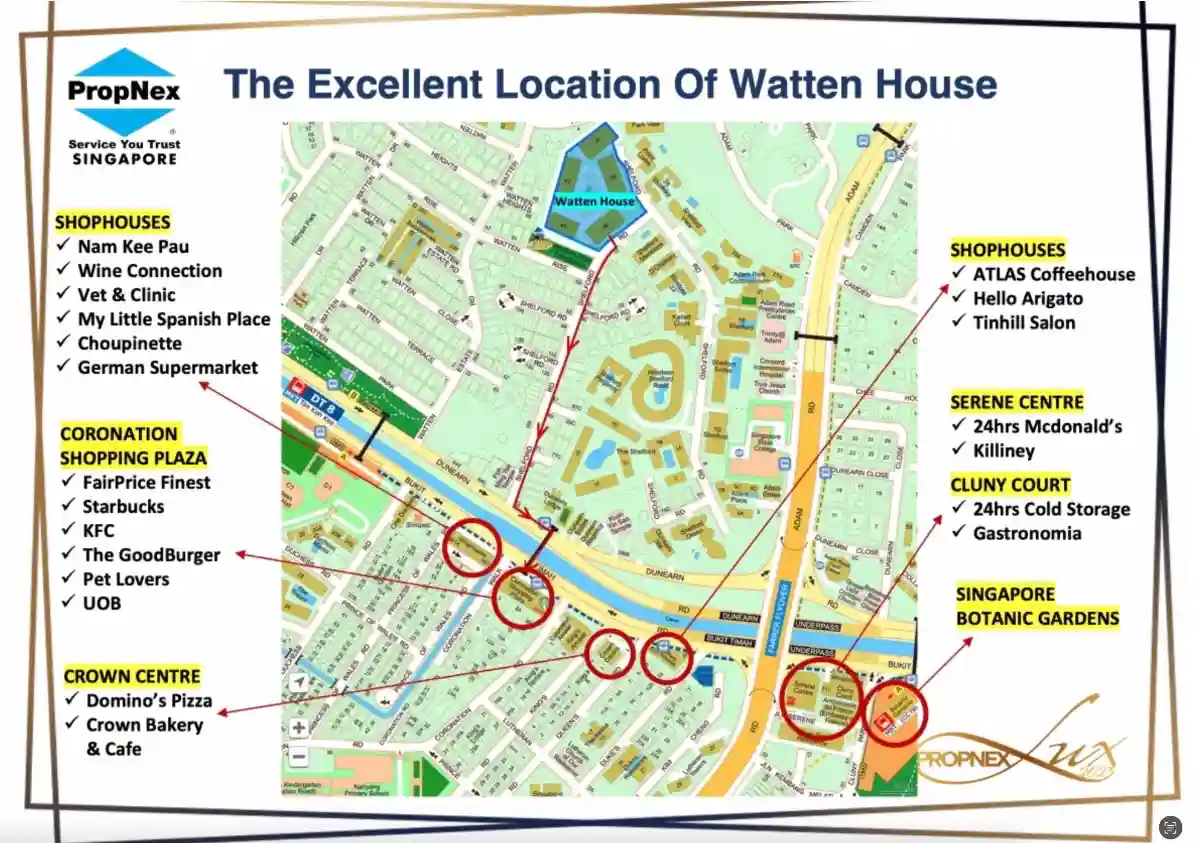 And because Watten House is close to nearby Bukit Timah nature reserves and that (tall) Bukit Timah hill and also the large Singapore Botanic Gardens, it does give a feeling of unique, vibrant scene with plenty of nature just for Watten House residents.
Bukit Timah is also home to a high concentration of Singapore's native tropical greenery and rainforests - a sure win for nature lovers. With a nature reserve nestled in its midst, treetop walking trails, and other unique eco-spots that offer the great outdoors right at your doorstep, Bukit Timah offers plenty of options for outdoor activities and fresh air.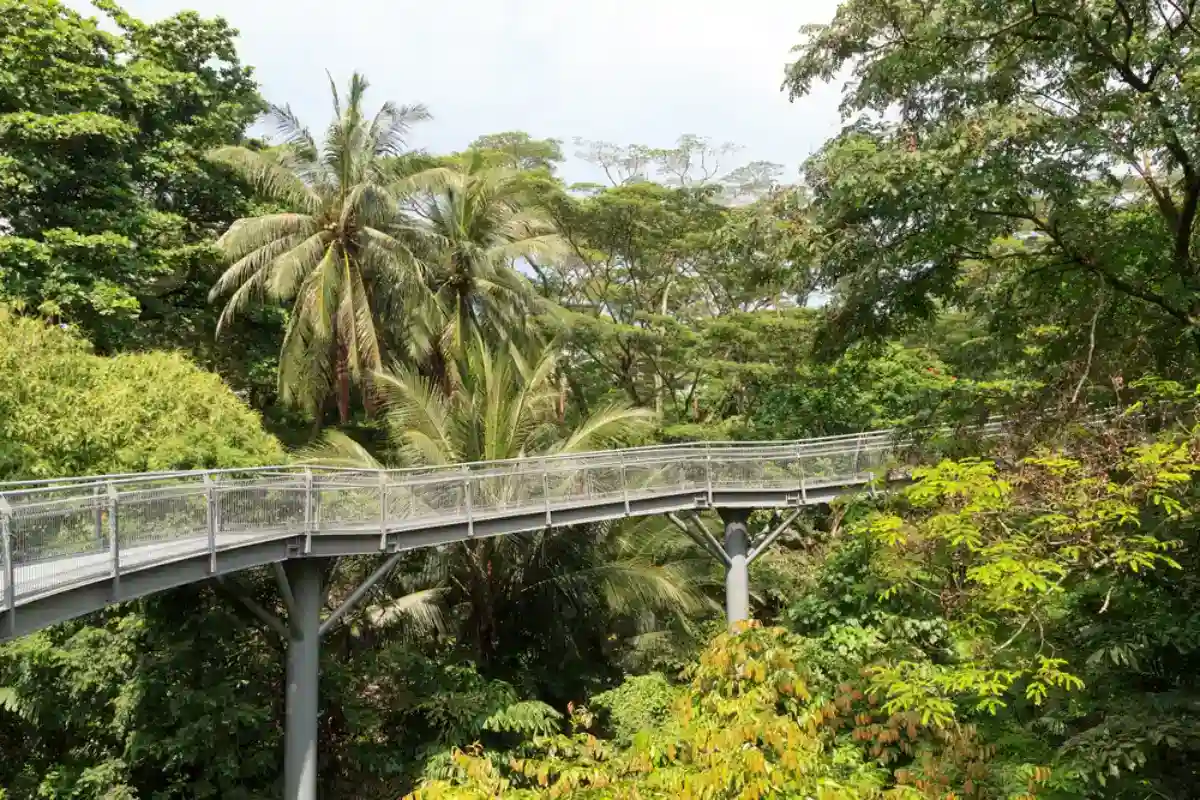 Legacy Planning and Freehold Tenure of Watten House
The freehold tenure of Watten House meant that it is suitable for legacy planning too.
People who want and can afford Watten House are also careful planners for their future and their children and beyond.
The freehold tenure of this former Watten Estate Condo located along Shelford Road, right in the heart of Bukit Timah, offering luxurious living at Watten House, meant that it can be free of leasehold decay and passed on from generation to generation.
How to get invited to a Preview of the New Launch
Visit this web site for contact number or call 9099 4422 (WhatsApp) to get a copy of Watten House e-brochure, Watten House floor plans, Watten House price list.
You can also arrange for private showroom appointments in late October and early November through the web site or 9099 4422.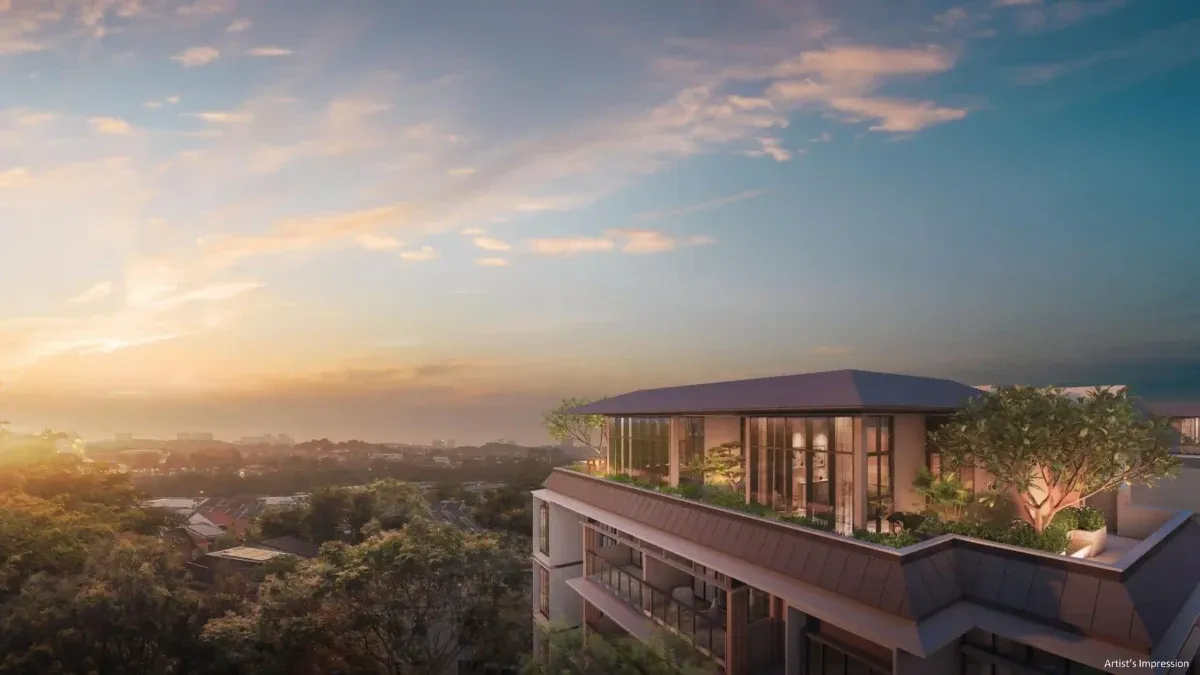 FAQ for Watten House New Launch
Q: Where is Watten House Condo located?
A: Watten House Condo is located at District 11 of Singapore, at Shelford Road, along Bukit Timah, Singapore. The official address is 36, 38, 40, 42, 44, 46, 48, 50 Shelford Road.
Q: Who are the developers of Watten House Condo?
A: Watten House Condo is developed a joint venture by UOL Group and Singland Group. Both are highly successful developers. UOL Land and Singland are famous for high quality developments such as Pinetree Hill, AMO Residences, Avenue South Residences, Thomson Three etc.
Q: What is the floor plan for Watten House Condo?
A: The floor plan for Watten House Condo is available upon request. Please refer to the Watten House web site for floor plans.
Q: How luxurious is the living at Watten House Condo?
A: Watten House Condo offers luxurious living with its high-quality amenities and prime location. Each unit (you can see that at the preview show too) are packed with high quality modern design and luxurious interior furnishing.
Q: What educational institutions are near Watten House Condo?
A: There are several educational institutions located near Watten House Condo. Please refer to the article above and the Watten House location map for a complete list.
Q: Is Watten House Condo within 1km of any schools?
A: Yes, Watten House Condo is located within 1km of several prestigious schools such as Raffles Girls Primary and Nanyang Primary.
Q: What is the price range for Watten House Condo?
A: The price range for Watten House Condo varies from 3 bedroom to 5 bedroom to Duplex Penthouse units. Please contact the Watten House developer agent for the latest pricing details when it is launched.
Q: How can Watten House Condo enhance its liveability?
A: Watten House Condo enhances its liveability through its well-designed layout, modern facilities, and strategic location at Bukit Timah. The parks nearby provide a break from the hustle of modern day life, while the food establishments are always a walk or drive away. In addition, the Bukit Timah nature reserves are also easy to reach for your weekend hiking.
Q: How is the accessibility to Watten House Condo?
A: Watten House Condo is easily accessible via major roads like Bukit Timah Road Dunearn Road and is just a 7 minute walk to Tan Kah Kee MRT. There is also the Botanic Garden MRT interchange for downtown line and circle line. From Bukit Timah Road, it is just a short drive to CTE and PIE that takes you all over the Singapore island.
Q: How many car park lots are there at Watten House Condo?
A: Watten House has 183 lots (inclusive of 4 EV lots and 3 accessible lots).
Q: When is the expected date of notice of vacant possession ?
A: Watten House has an expected date of notice of vacant possession of 30 June 2027 but that is always subject to changes. Check with your property agent.
Staying in Touch
Do Consider Subscribing to my Emails and Social Media