Condos within 1 km of good schools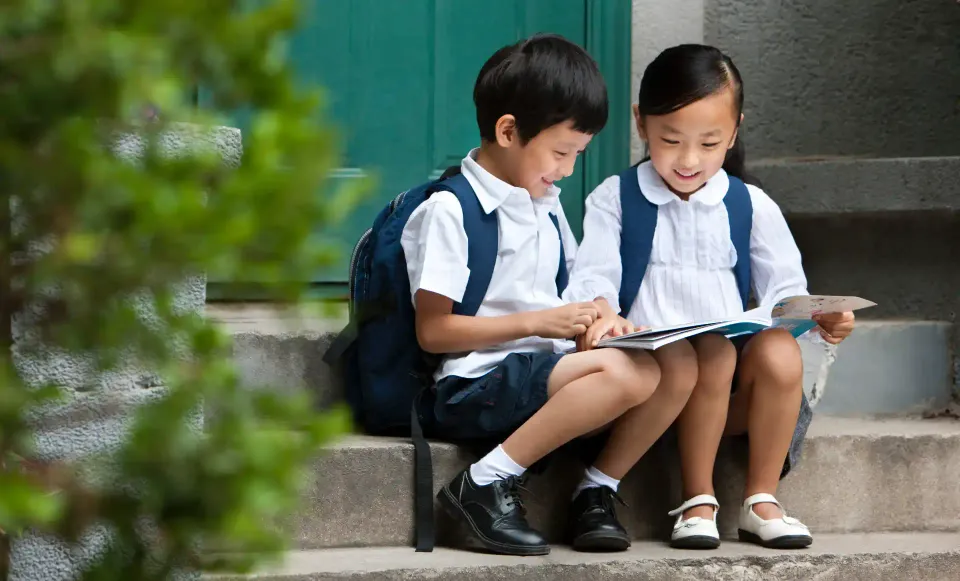 Whether to move to condos within 1 km of good schools is always a topic of intense discussions and debates between parents.
This is especially when some new launch condo like AMO Residences was sold out on the first day of launch and one key reason given was that AMO Residences is within one km of two very famous and popular primary schools, Ai Tong Primary and St Nicholas Girls. Buyers who are parents flocked to buy units at this new launch.
Why condos within 1 km of good schools are important
And, of course, this also applies to HDB flats and landed properties. Basically any housing within 1km of good schools are very attractive to Singapore parents.
Primary School P1 registration in Singapore is conducted over several phases, from Phase 1 to Phase 2C(S). But, at most phases, if your chosen primary school has more registrants than vacancies for that phase, then priority admission to a school will be given to children who are Singapore Citizens (SC) and Permanent Residents (PR).
Notice how it refers to Singaporeans Citizens and PRs. So even if you are a rich HNW foreigner individual and willing to pay 30% ABSD, the priority registration does not apply. Unfortunately, your child will be in the last phase.
So why is Priority Admission so important. This is because many of the most popular primary schools are always needing some form of differentiated treatment due to outsized demands. And as the balloting flow shows, Singaporeans gets priority over Permanent Residents first in any vacancies in a preferred Primary School.
And they are in this order, if your chosen primary school has more registrants than vacancies....
Singapore Citizens (SC) living within 1km of the school
SCs living between 1km and 2km of the school
SCs living outside 2km of the school.
Permanent Residents (PR) living within 1km of the school
PRs living between 1km and 2km of the school
PRs living outside 2km of the school
Notice in the above balloting flow, nationality beats distance. As long as there are enough vacancies, as long as a Singaporean child wants the place, he will get it. Even if the child stay more than 2km.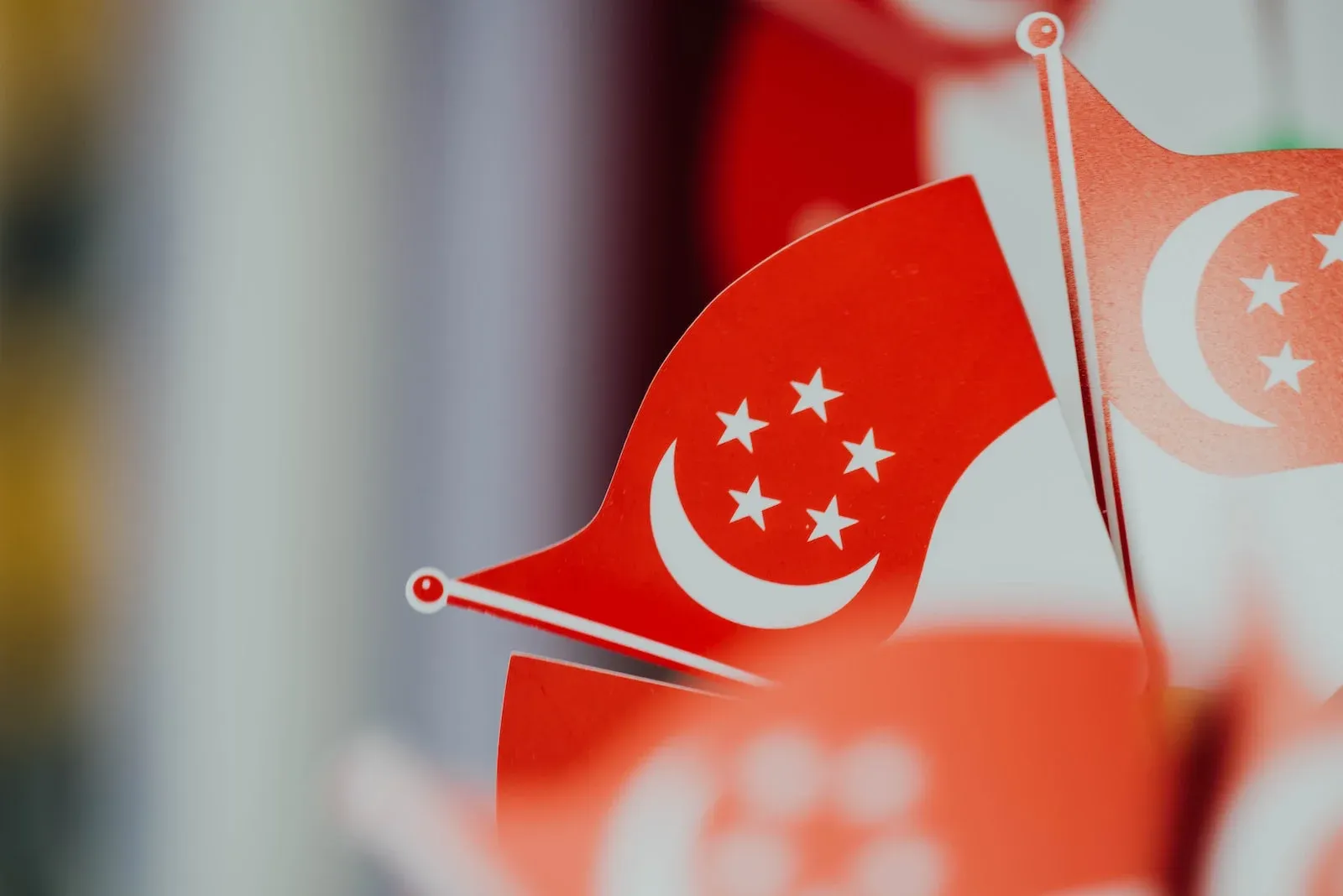 Yet within the same nationality, whether Singaporeans or PRs, there is an even more critical element...... which determines priority....
Yes. The distance from the school. Are you living within 1km or more within the preferred primary school. The closer you are, the higher the priority. The higher the priority, the higher your chances.
The different phases of Primary School registration
There are several phases involved in the primary school registration. This takes place one after another. With remaining vacancies flowing from one phase to another.
Although nowadays, some places are reserved in the latter phases (which then reduces the number of spaces in the earlier phase, which then just increase the competition, ironically). The reservation of more spaces in later phase was to prevent a top primary school from being fully taken up at the earlier (and more privileged, in the eyes of many) phases.
Phase 1
For a child who has a sibling studying in the primary school.
Thoughts : Which came first, the chicken or the egg? If you already have a child in that desired primary school... nothing to talk about priority balloting. You got already a place for your second child already. Nothing to worry about distance. Except about the better quality of school life as discussed below. Moving on....
Phase 2A
For a child:
Whose parent or sibling is a former student of the primary school, including those who have joined the alumni association of the primary school as a member.
Whose parent is a member of the School Advisory or Management Committee.
Whose parent is a staff member of the primary school.
From the MOE Kindergarten under the purview of and located within the primary school.
Thoughts : The "oh my father is..." phase. Alumni parents' child falls under this phase. So does management committee's child or teachers' child. But interestingly also those already in the MOE Kindergarten in the primary school.  Which is great for children to be in the same school, making transition easier. In most cases, MOE Kindergartens tend to in neighbourhood schools.
And you think there is no balloting at 2A ? Dream on...
In 2022, see how balloting was already in Phase 2A. For these schools. In these schools, balloting only for Singaporeans staying within 1km. No chance for anyone outside of 1km.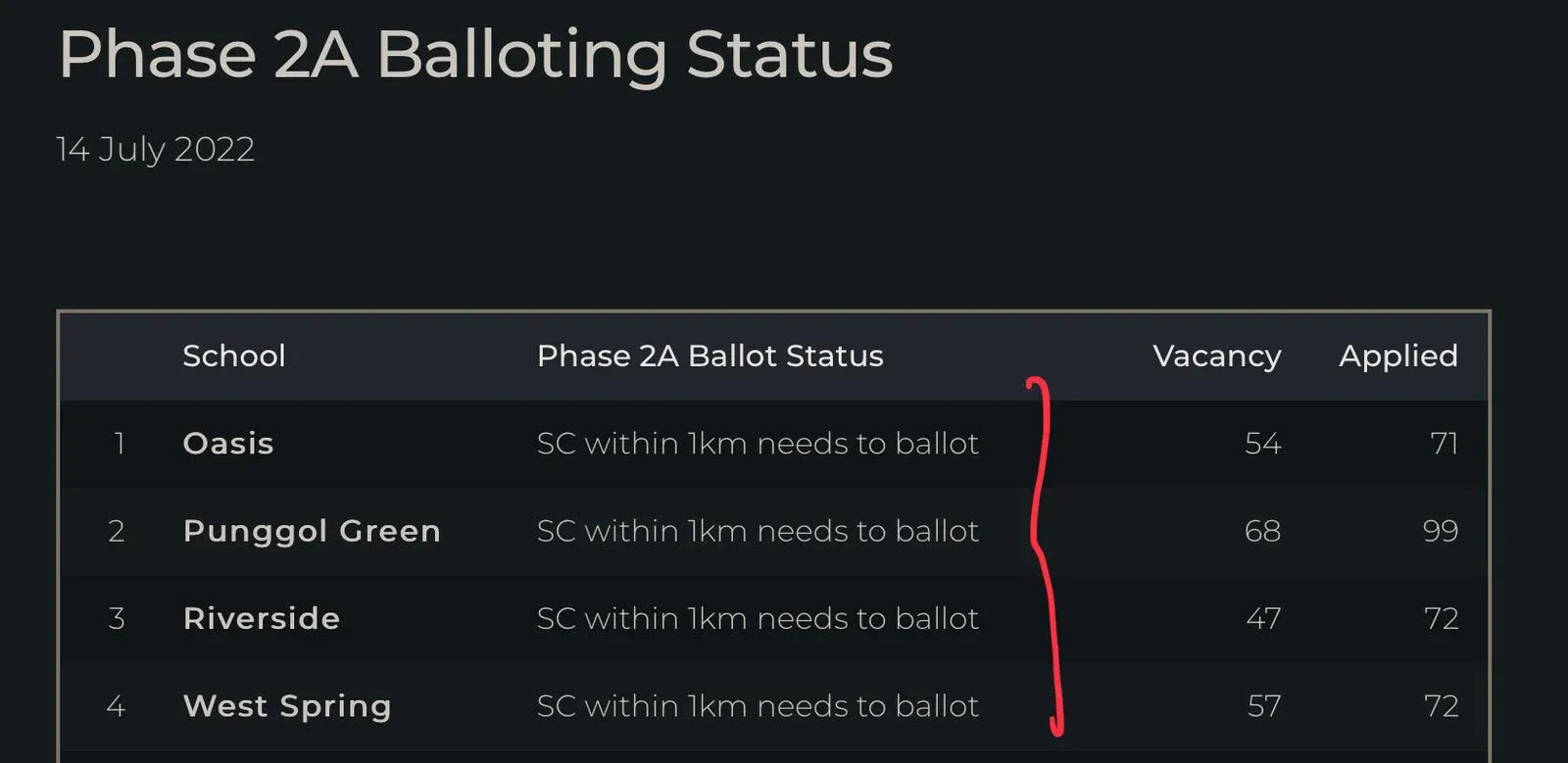 But you can see that balloting for the "more famous" schools are actually for those who stay more than 2km. So those who (bought a property and) stay within 2km and are eligible for Phase 2A are happy rabbits :)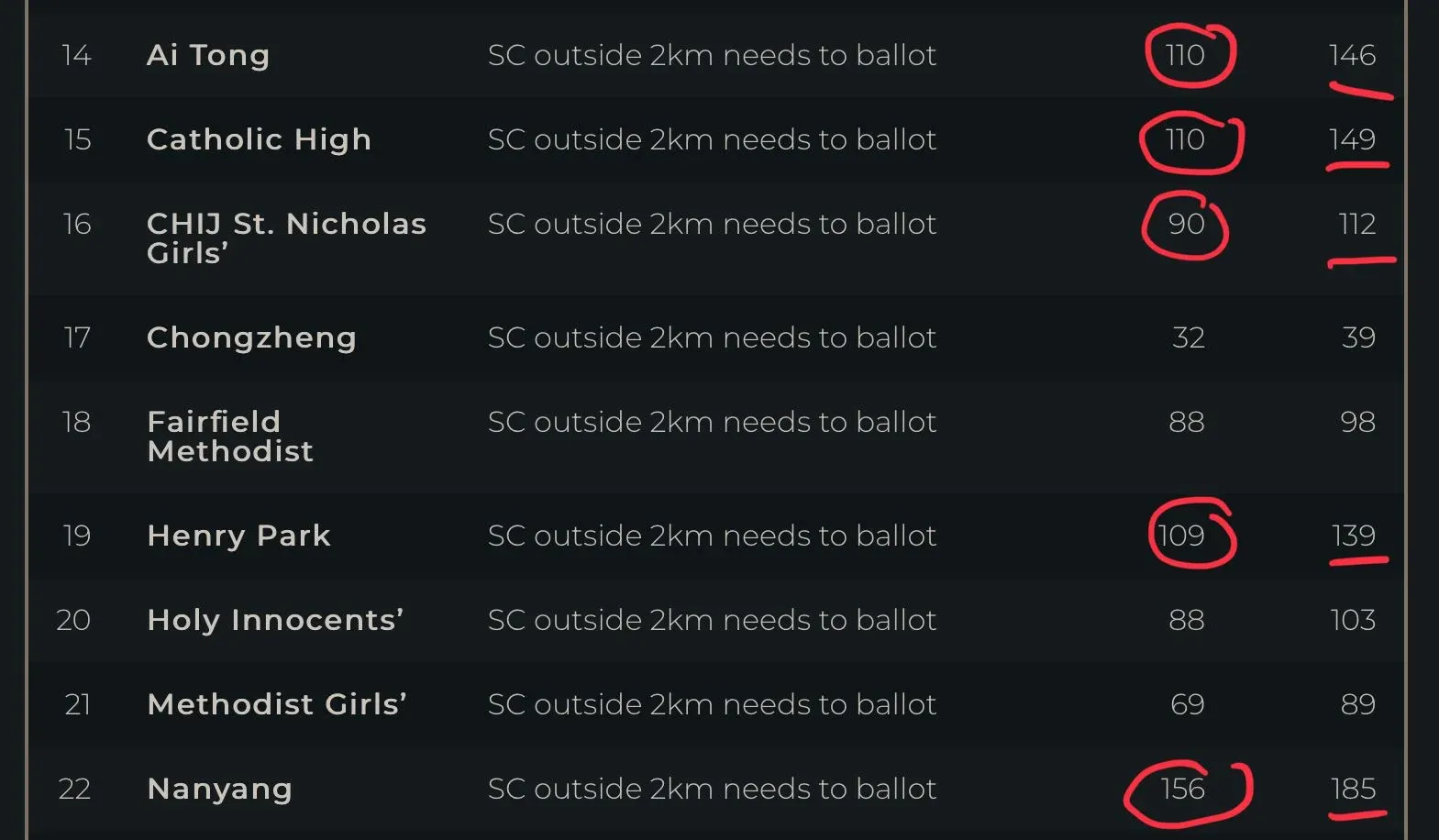 Phase 2B
For a child:
Whose parent has joined the primary school as a parent volunteer not later than 1 July of the year before P1 registration and has given at least 40 hours of voluntary service to the school by 30 June of the year of P1 registration.
Whose parent is a member endorsed by the church or clan directly connected with the primary school.
Whose parent is endorsed as an active community leader.
Thoughts : The poor parent who wake up early to guide morning school traffic or "arrowed" to do library reading sessions etc.... oh our long suffering parents. This is also the most competitive phase. The school will reserve 20 places in each primary school for Phase 2B to ensure continued access to all primary schools. So there will be at least 20 spaces. And buy, sometimes, that is all in some very popular schools. You can volunteer and still end up nothing.
It is the phase where your distance matters a lot. In top primary schools, many parents know that if you are not within 1km at this phase, you don't even need to be bother. Even if you are in 1km, there is most likely to be balloting.
Eg. Primary 1 registration: 33 schools oversubscribed in Phase 2B.
The remaining 26 schools will conduct balloting for Singaporean children living within 1km of each school
Which schools are these ? Look at the chart. Balloting only for Singaporeans staying within 1km. No 1km, no talk.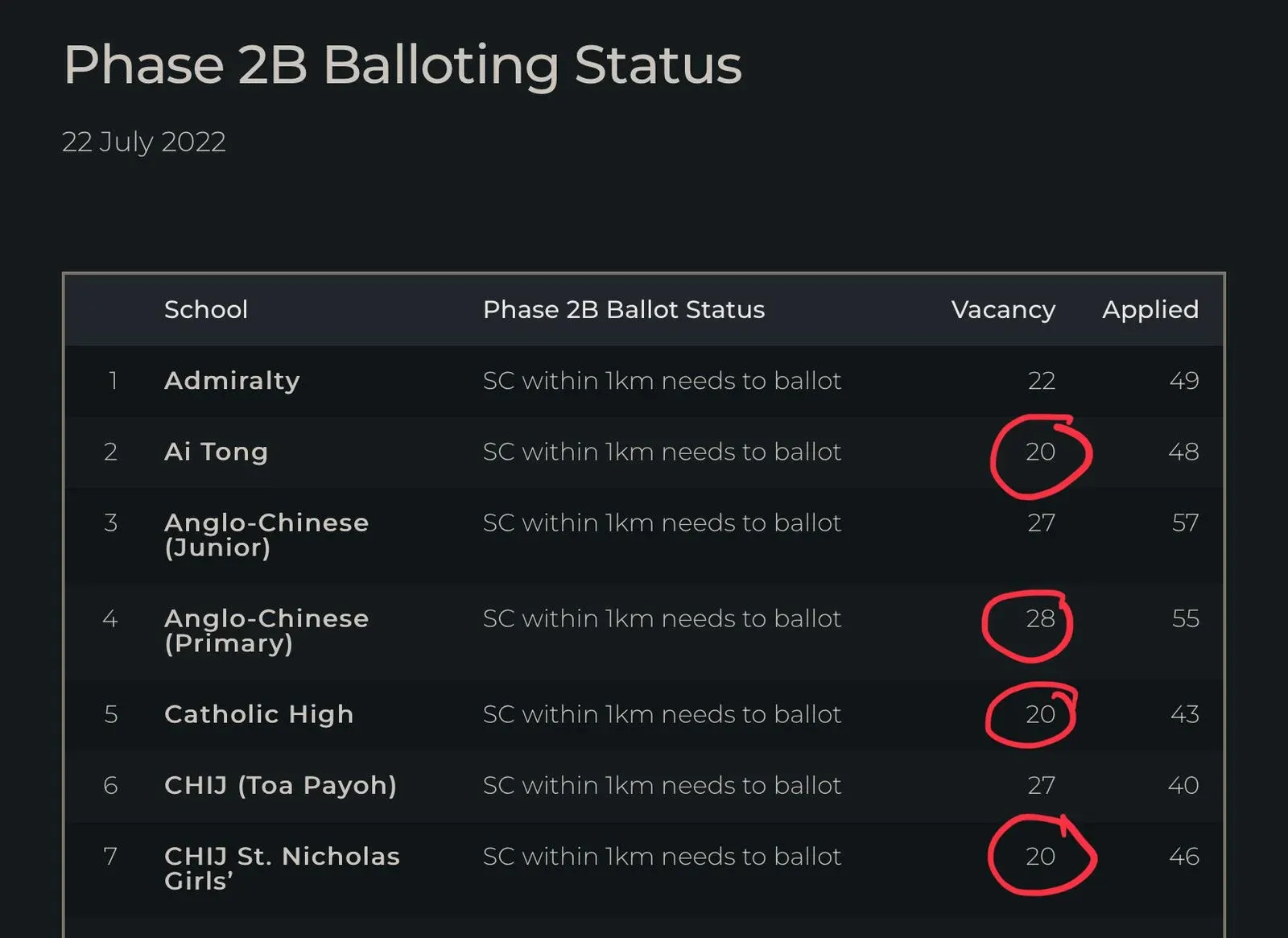 Phase 2C
For a child who is not yet registered in a primary school.
Thoughts : The govt has made sure that the playing field is improved. 40 places will be reserved in Phase 2C in each primary school, up from 20 places today. These 40 places are open to all students in the country. But so what. For popular schools, balloting is still needed. Again the distance matters here too. Don't believe ?
Primary 1 registration: Nearly half of all primary schools in Singapore oversubscribed in Phase 2C.
With exception of those 15 schools, the other oversubscribed schools will conduct balloting only for Singaporean children living within 1km of the school.
Even at Phase 2C, top primary school balloting are again "no 1km, no talk"....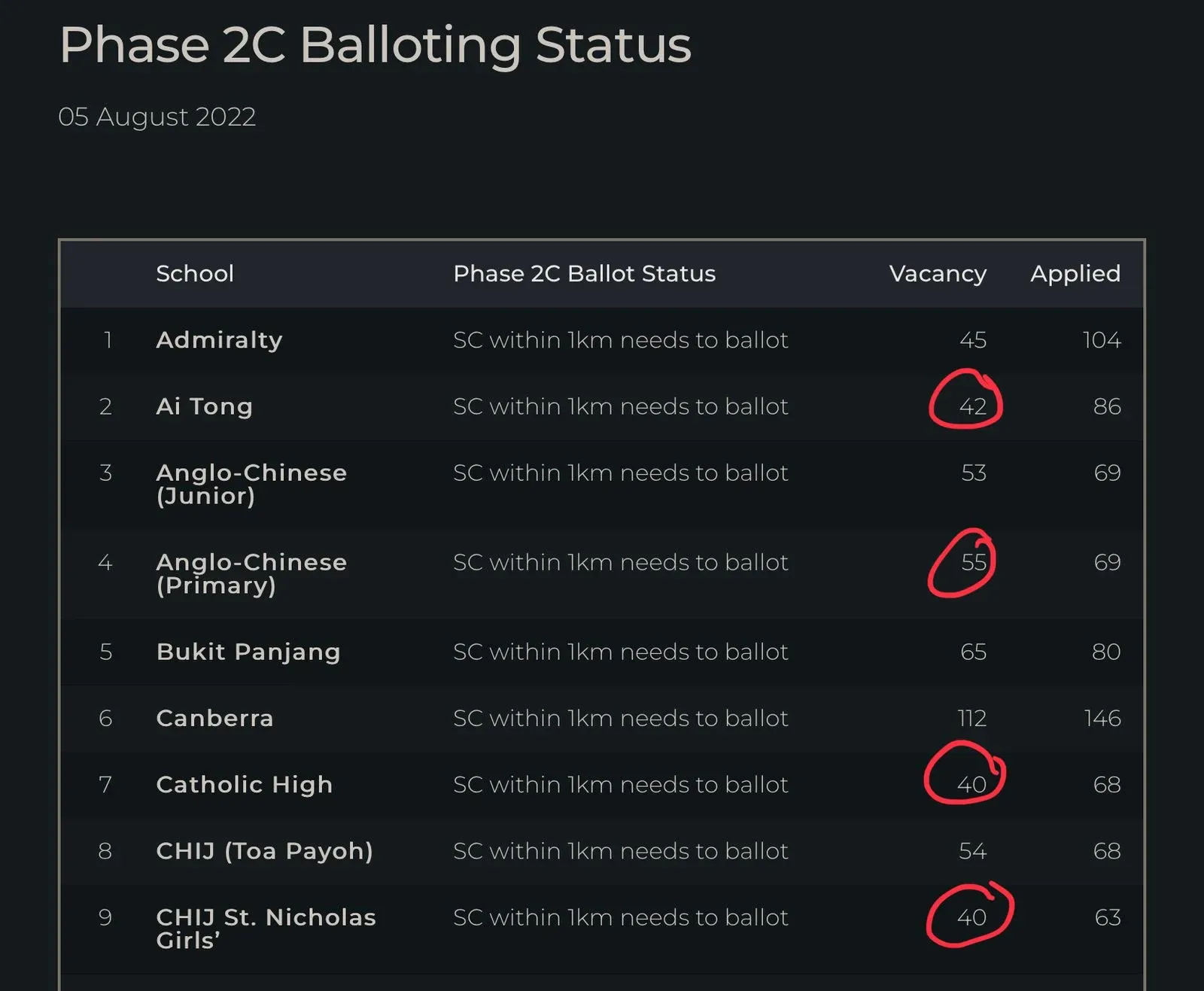 Phase 2C Supplementary
For a child who is not yet registered in a primary school after Phase 2C.
Thoughts : The remaining of the remaining :)
What does this all means at the end of the day
End of the day, no matter how much spaces are reserved, top primary schools will always have a ballot. And most likely, the balloting is only for Singaporeans staying within 1km.....
And in such cases, two important points are relevant to getting the places you want in a top primary school:
You need to be a Singaporean
You need to be within 1km. Period.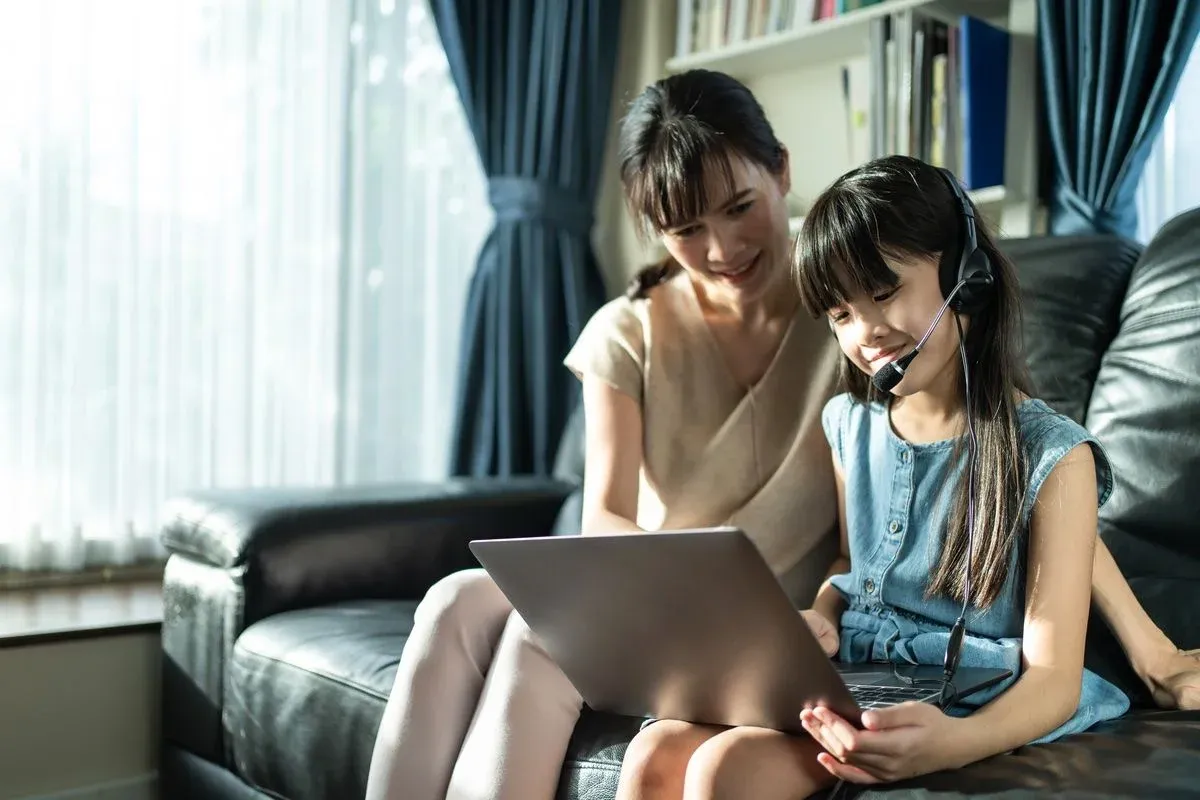 Within 1 km is also about the quality of school life
To stay within 1 km of your child's school is also very much about improved quality of life. Wake up later. Much later. Come home earlier. Much earlier.
CCAs in the afternoons are also not an issue.
No need to drive a Bentley to fight to drop your kid lah. Or simply just have more peace of mind when your kid goes to school by himseld or come home from school by herself. It is only 1 km.
How do our parents get us into our schools  

Saw this photo on Facebook. Last time our parents queue overnight ok ! Ha. Singaporeans are like that. We want the best for our children.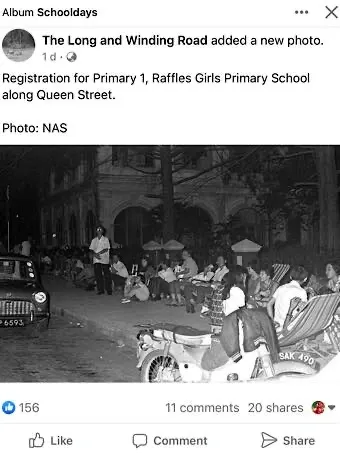 Subscribe to PatkoProperty newsletter
Examples of new launch condos within 1 km of good schools
Of course, I am a property agent and I (thick skin or otherwise) will use this "distance" factor to market my properties.
This applies to new launch condos or resale condos or resale HDB. Or landed. The schools do not care. All they care are (1) Nationality (2) Distance.
But let's look at some upcoming new launch condos in Bukit Timah. You might also want to check out my article on the steps involved in buying a new launch condo.
Yes..... that place where "top schools, luxurious homes, lush greenery. Think of Bukit Timah, and these are the images that come to mind. Over the years, this neighbourhood has become one of Singapore's most exclusive estates, and has come to embody fine lifestyles in Singapore"..... Not my words but from The Reserve Residences web site.
But it is true. Bukit Timah has a large number of good schools and a couple of them are famous and popular Primary Schools. Think of Nanyang Primary, Raffles Girls Primary, Anglo Chinese School (Primary), Singapore Chinese Girls Primary etc.
And new launch condos' developers (and property agents) are not afraid of telling it as it is. They will tell you if the developments  are within 1 km of these schools and sell it as so.
What are some condos within 1 km of good schools in Bukit Timah then ?
My favourite is The Hyde which is one km from ACPS and SCGS Primary. The Hyde has already issued its TOP at the time of writing and are selling out fast. I expected it to be fully sold out way before 2023 primary school intake. Call me at 9099 4422 if you want the last few units left.
Next one I liked personally is a nice new development launch known as the Enchante. It is just so happen that it is also one km from ACPS (again) and SJI Junior.
Another one that just about to be launched for booking is Sanctuary@Newton. It has 3 Primary Schools (ACSP, ACSJ and SJI Junior) all within 1km !
And then there is an even more crazy exciting new upcoming launch soon. The name of the condo is not yet confirmed but it currently goes under the marketing name as "Watten Estate Condo". Why is it exciting. It sits within one km of Nanyang Primary School and Raffles Girls Primary. Nanyang Primary. Raffles Girls Primary. Many parents know why it is so exciting (or disappointment if you fail at balloting) from these really top primary schools.
It is also a short walk to the famous Hwa Chong Institution (自強不息 anyone) as well as National JC, Nanyang Girls etc.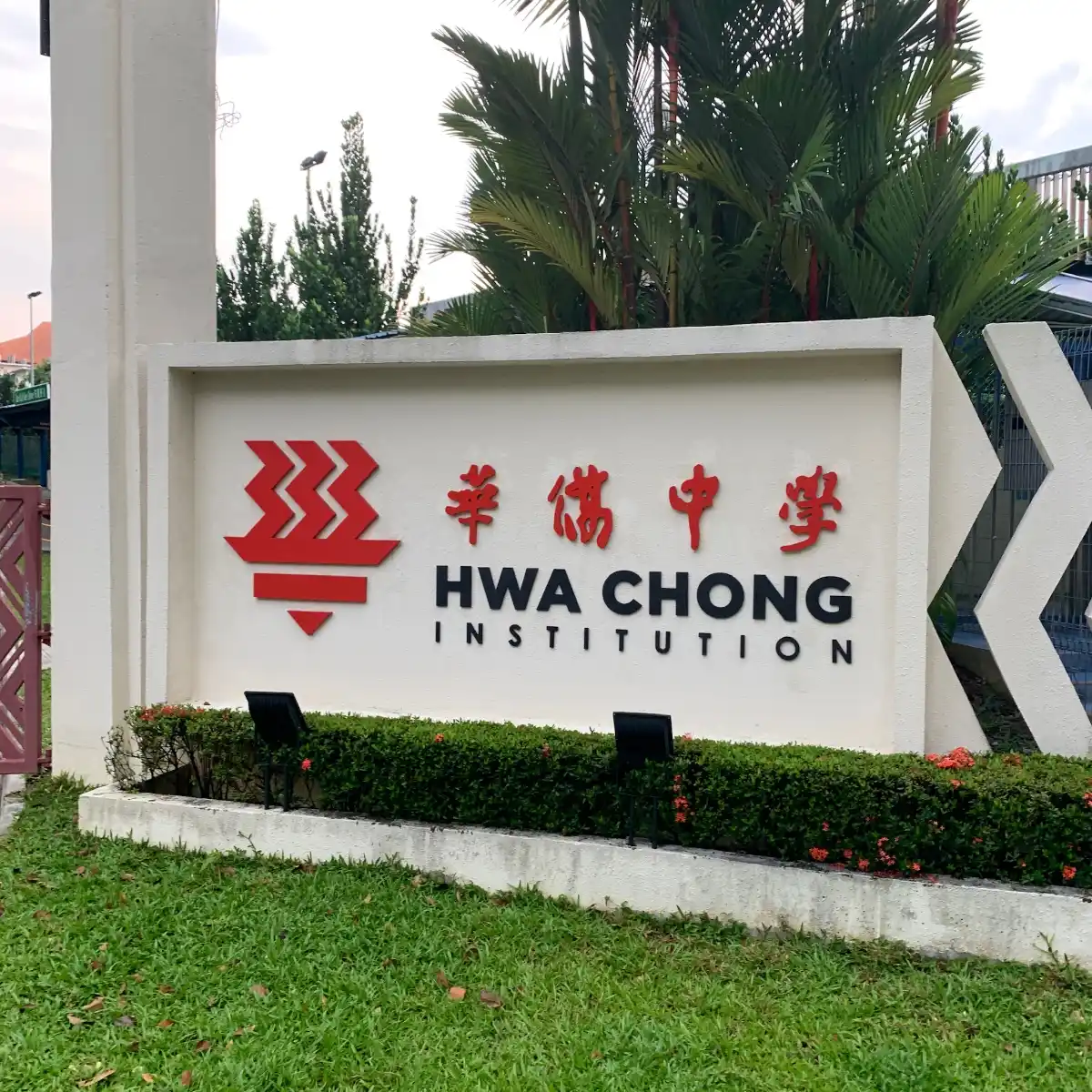 Does it even matter in the end
This, being a property blog, "yes"..... I know..... ridiculous agent  :)
Jokes aside, I personally think it is very much an individual choice. No amount of argument or slogans (every school is a good school) can change a parent's strong mind. It is their child after all.
One just need to execute on it if you do think going to a particular primary school is important etc. And work with your favourite Property Agent to plan around it :)
End of day, primary school is just one step in a long education life. Your child's happiness is everything.

---
Subscribe to PatkoProperty newsletter