MOP for SERS HDB. A Real Life Example & why is it important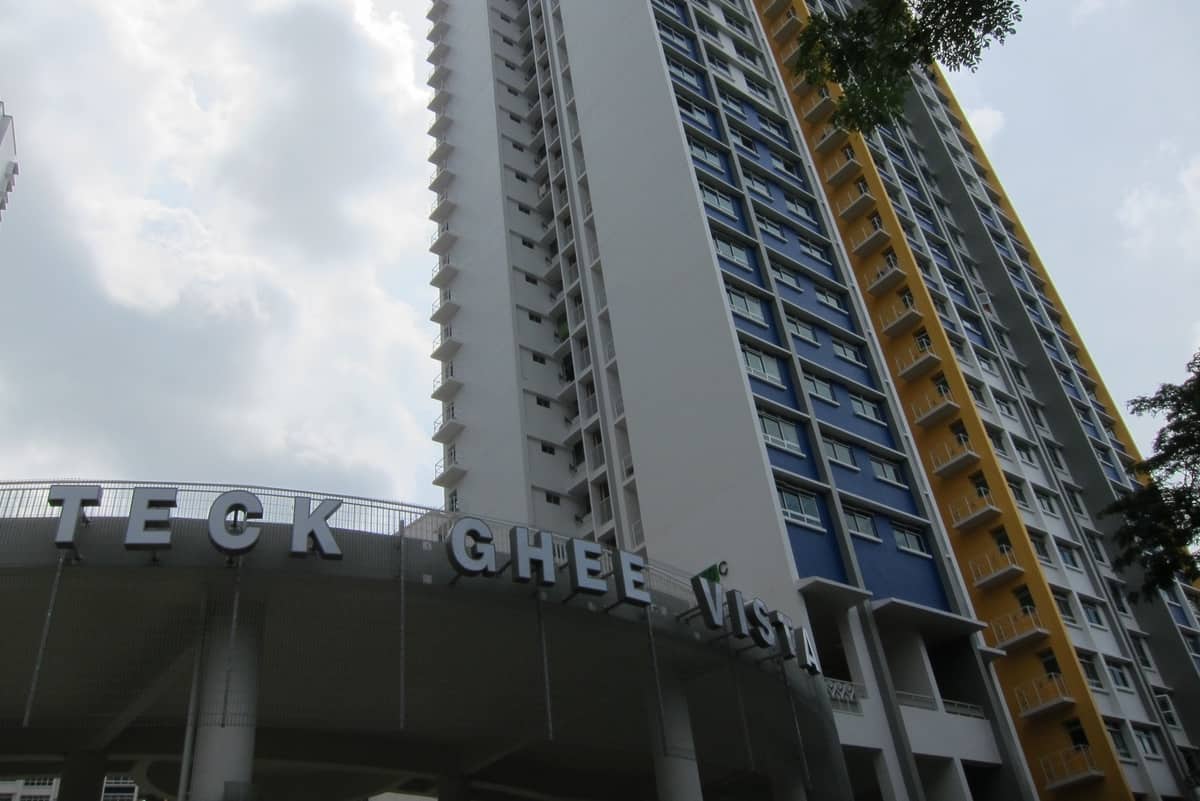 Update in 2022 : Note that in April 2022, the rules for MOP for SERS flat has been changed. See this article. Hence, the information in this article would be outdated and no longer relevant. Sad but true :)
In the last article on MOP, we talked about MOP (minimum occupation period) for new BTOs and ECs. Today we are going to discuss SERS HDB MOP rules.
In other words, what are the MOP rules for HDB flats that are purchased directly from HDB under the SERS programme. SERS is Selective En bloc Redevelopment Scheme (SERS) which basically renews the older HDB housing estates such as Queenstown and Ang Mo Kio. Especially the very famous unhappy SERS project at Ang Mo Kio :)
Benefits of SERS
A SERS resident will get the opportunity to move to a new HDB flat with a totally new 99-year lease, and yet continue to stay in the same housing estate they are familiar with. SERS flat owners will also be given a package comprising compensation and rehousing benefits. Most importantly, they don't have to meet the income ceiling of a BTO flat and yet get a subsidised HDB flat.
Many owners then sell these flats after MOP for a very good profit to those who want a relatively new flat in a (very) mature estate, with good transportation and good food 🙂
So now you know why people would say "Jackpot" and "Huat Ah" when their flat was SERS-ed. Singapore National Lottery.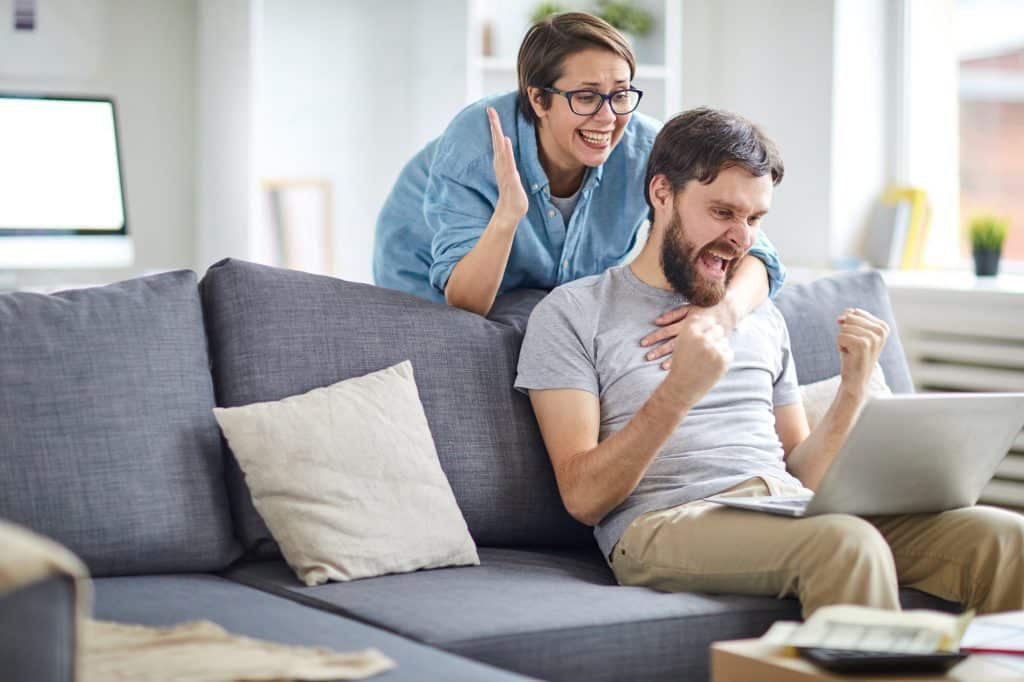 (Outdated) rules for SERS HDB MOP
So what are the (outdated) MOP rules for SERS HDB flat. From HDB web site :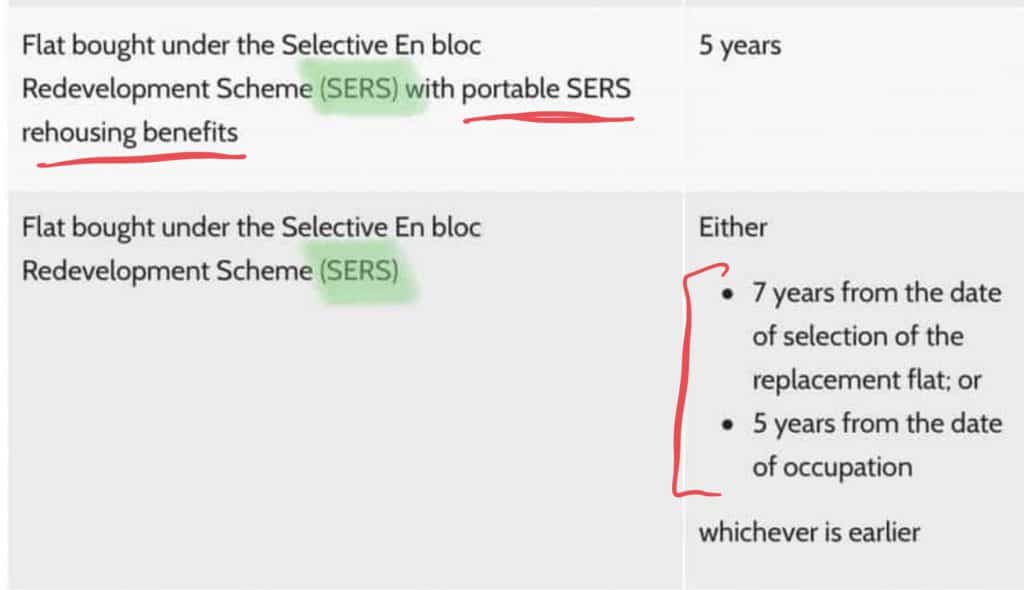 The first rule is for those who purchased the flat from a SERS owner and hence obtained the portable housing benefits. The "benefits" of a SERS old flat can be sold to another potential flat owner so that the new owner obtained the new flat too. That means the old flat (upon being SERS-ed) can be sold (with all the wonderful benefits) to a new owner in the resale market. It is going to be expensive as the benefits are good (new BTO flat with fresh 99 years lease at a prime location etc). In this case the MOP is just a straightforward case of five years for the new owners.
The second one is more common as most owners don't sell their SERS-ed flats but obtain possession and stay in the new flats.
To better understand this rule, let's use a real life example.
A real life example of a SERS flat in Teck Ghee Vista
Affectionately known as Ang Mo Kio IKEA (due to its yellow and blue colours), Teck Ghee Vista in Ang Mo Kio Avenue 1 is the new replacement 99 years lease flats for a group of very old flats in Ave 2.
The owners of these old flats were SERS-ed (give up their old flats) and then given the right to buy these new flat at Teck Ghee Vista. When the new flats are ready, they moved out of the old decaying lease flats in Ave 2 and moved to Ang Mo Kio IKEA in Ave 1.

To give even more further context, the original old flats in Ave 2 were then torn down and a whole new HDB BTO flats were built there. True redevelopment.
Anyway, four years after they moved in, some of the residents started to have door knocking visits from housing agents (Hi sir, do you want to sell your flat ? Do you know you can upgrade to private property without any cash ? Are you keen on asset progression? ).
The residents wondered why they are being asked as early as the 3.5 years after moving in. Isn't the MOP for these flats supposed to be five years as commonly known ?
Nope. Knowledgeable agents know that the SERS HDB MOP rules stated
Either
7 years from the date of selection of the replacement flat; or
5 years from the date of occupation
whichever is earlier
The key word is whichever is earlier. How can 7 years be earlier than 5 years.
Indeed let's look at the dates when we helped residents of Teck Ghee Vista to check with HDB on the MOP
From the above, this particular resident selected the flat on 26th March 2008 and then took possession of the flat on 25th April 2011.
26th March 2008 + 7 years = 26 March 2015
25th April 2011 + 5 years = 25 April 2016
So as early as 26th March 2015 (7 years from selection of flat), the residents of Teck Ghee Vista can sell their flats. They don't have to wait for 5 years from the possession (which is one whole year later).
7 years is not necessarily longer than 5 years 🙂
Why is this important ? Depending on the resale market, first movers of a new flat are likely to secure better prices for their flats. That is the case often for new flats that have just reached their MOP.
Agents who know the SERS HDB MOP rules well will be able to help get new clients earlier than normal thinking agents ("all flats' MOP are 5 years from possession lah. Where got so fast one lah").
Does this 7 year rule apply to subletting too
Does this 7 years SERS HDB MOP rule apply to whole flat subletting too ?
Nope, it does not. This MOP of seven years only applies if you want to sell the flat or buy a private property (remember you need to fulfil MOP before you can buy a private property ?).
To sublet the flat, you still need to have be in possession of the new SERS flat for five years.

So let's think about this.
The resident above can actually buy a private property in March 2015 but can only rent out his whole HDB property in April 2016.
That is one whole year of no rental income. Assuming that the purchase of private property takes 3-4 months of completion and 2 months of renovation, that is still 6 months of an empty HDB flat and hence no rental income from the HDB flat.
This might have some short term financing impact on the owners. More importantly it might come as a surprise to the owners which is never ever a good thing.
That is why I always stress that one needs to find a knowledgeable and competent housing agent to help you 🙂
Staying in Touch
Do Consider Subscribing to my Emails and Social Media